Men In Search Of Change (MISOC)
Monthly Inter-Denominational Prayer Breakfast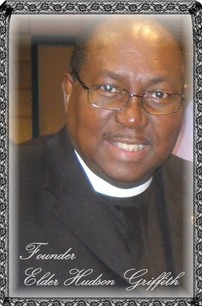 History
The Men in Search of Change
Monthly Inter-Denominational Prayer Breakfast
is the vision of
Elder Hudson W. Griffith
an ordained minister originally from the Caribbean Island of Barbados. He worked as an Intervention Crisis Counselor in Middletown, DE for 3 years before coming to Las Vegas, NV. He met and married Shelea in 2007 and felt the 'Call of God' to work among the men here, and to unite the churches in Prayer in preparation for revival.
Profile
Elder Hudson W. Griffith
is the son of missionary parents and began preaching at the age of 14 years as a 'preacher boy' with Youth for Christ. His Tertiary education was obtained from the Cave Hill campus of the University of the West Indies School of Education. He qualified in Mass Media Communications, Public Relations, Business and Human Resource Management, as well as Journalism and Broadcasting.
His Theological training was completed at the Barbados Bible College, the Alpha and Omega School of Ministry and Evangelism Explosion. He is also a graduate of the Haggai Leadership Training Institute in Singapore.
He pioneered the start of Deliverance Youth Centers across the Caribbean Islands geared to drug addicts, alcoholics, ex-convicts, prostitutes, delinquent youth and rastafarians. He is also the founder of Operation Intercession a Prayer Ministry and has Pastored Higher Level Christian Center Church for over three years.
He underwent extensive training in youth work from the British Commonwealth Youth Affairs Commission, and was the first Evangelical Christian to become President General of the Barbados National Youth Council. He represented the youth of the Caribbean region at such International Forums as the United Nations, the World Assembly of Youth and was privileged to visit several European cities as a Youth Missionary of World Wide Missions in Holland. There he was able to minister and undergo training in rehabilitation work among drug addicts and alcoholics.
He has traveled extensively as a Youth and Men's Ministry Evangelist, Photo Journalist, Motivational Speaker, Crisis Counselor, Church Growth Specialist and Leadership Trainer. He has managed his own Public Relations firm and developed the Changing Attitudes Training Modules. He is currently working on converting a number of his training manuals into effective publications. Some of his presentations are on Goal Setting, Preparation for Change, Decision Making, Communications, Financial, Time and People Management.
Mission
There can be no doubt that men are in crisis. Many are taken off to the military and end their lives on the battle fields. Some who are left behind find themselves in gangs abusing and trafficking drugs, while others are addicted to nicotine, alcohol and all kinds of sexual perversions. Many are incarcerated in our prisons and live a life of hopelessness with a lack of direction and irresponsible violent behavior in need of anger management. Many of our ladies complain that our men are somewhat irresponsible.
As a result, many of our homes are suffering from the lack of fathers and husbands to be good role models for our children.
MEN IN SEARCH OF CHANGE ("MISOC")
seeks to bring changes to the lives of our men in several different areas.
To unite men of all faiths, races, denominations and social backgrounds under the banner of Jesus Christ as Lord.

"MISOC"

although NOT a church; we are a Ministry with a vision from God to

TRULY UNITE

the children of GOD in the body of Christ, as the scriptures read in;


1 Corinthians 12:12 KJV
For as the body is one, and hath many members, and all the members of that one body, being many, are one body: so also is Christ Also
Romans 12:5 KJV
So we, being many, are one body in Christ, and every one members one of another.
It is our assignment
to bring revival to Las Vegas through the

UNITED

efforts of changed responsible men, joining hearts and hands from every church; proving they are new creatures in Jesus Christ.
Th
e first Inter-Church Men's Prayer Breakfast was held at Destined for Glory World Outreach Ministries on March 31, 2007; Approximately

93

men

came together from

16 different churches

with

9 Pastors in attendance

.
Since then, The
Men in Search of Change
Prayer Breakfast has been held the last Saturday in every month, at different participating churches to increase greater fellowship among the men of all faiths and races. The greatest success to date has been in the strong attendance of the Pastors. As many as 21 Pastors attended one Breakfast and over 40 churches have made commitments to supporting the monthly function.
---
Both Elder Hudson W. & Shelea A. Griffith Agree and Share
in the Vision God has Instilled on Them.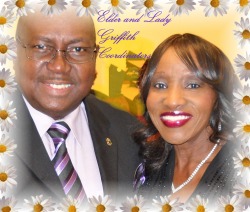 Only a united effort of all our churches can break down barriers of division and unite our men to make changes in our communities. Ladies, I am sure that you will agree that responsible men make better husbands, fathers, workers, companions, politicians and leaders in our communities.

During our 30th MISOC Prayer Breakfast, we stepped out to invite all women to support our gathering. That particular meeting was concerning Husbands and Wives; titled
"
What Makes a Successful Marriage?
"
---
Some of the Pastors Who Attended the 30th
Men In Search of Change Monthly Prayer Breakfast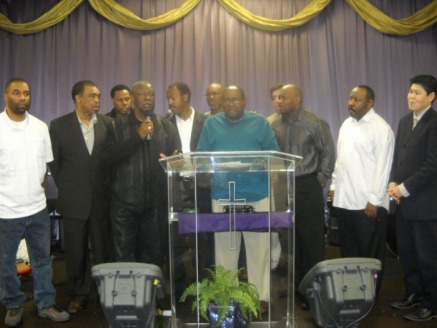 Surrounded with
Elder Hudson W. Griffith
Founder & CEO
(Appearing in order from left to right)
Pastor Eric Barnes
,
Liberty International Church Fellowship
Pastor Bill McDonald
,
Ebenezer C.O.G.I.C
Pastor
Henry Black
,
Covenant Keepers Christian Center
Pastor Sam Robertson

,
Community Baptist Church
Pastor Tony Howard

,
Destined for Glory World Outreach Ministries

Pastor Mike Hatch
,
Prayer Center

Elder Hudson W. Griffith
,
Men In Search Of Change

Pastor Jose Boveda

,
My Fathers House
Pastor Ontiwan Carter

,
Restore of the Breach

Dr. Leon Williams

,
Voice of the Lion Ministries
Pastor Shinzo Iwatan

,
Unification Church
Bishop John Wynn

,
Greater Harvest International Church Fellowship
---
Closing prayer including all the attending Pastors, Apostles and Bishops. Host Church: Destined for Glory World Outreach Ministries, Pastor Tony Howard in Las Vegas, Nevada.