WELCOME TO OUR

"UNITE FOR CHANGE"



RADIO PROGRAM OF EVENTS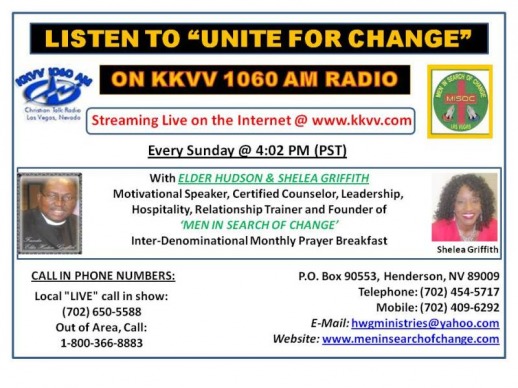 RECENT - UNITE FOR CHANGE - CD TOPICS
Click on the arrows below to hear the inspiring messages
By: Elder Hudson W. Griffith
1. July 3, 2011 -

"Obstacles to Achieving Your Goals"

By: HWG

2. July 10, 2011 -

"A Wholistic Approach to a Balance Life"

By: HWG

3. July 17, 2011 -

"Life Interruptions"

with Special Guest - Dr. Ron Thomas

4. July 24, 2011 -

"Building Relationships for Revival"

with Guests: Pastor David Woods and Pastor Garry Hart

5. August 7, 2011 -

"In Whom and Where is Your Confidence?"

By: HWG

6. August 14, 2011 -

"Avoid Stress, Rest in the Lord"

By: HWG

7. August 21, 2011 -

"An Attitude of Gratitude"

By: Elder Hudson W. Griffith

8. September 11, 2011 -

"Walk in Your Royal Favour"

with Guests: Min. Jeff Barlow (Speaker) and Bro. Doug Sanford9. September 18, 2011 -

"The Holy Ghost Power"

with Guest: Pastor Hezekiah Usim of The Redeemed Christian Church of God House of Praise10. September 25, 2011 -

"Korean Outreach Trip Interview"

with Elder Hudson W. Griffith11. October 2, 2011 -

"Preparation For Warfare"

By: Elder Hudson W. Griffith
The Recent Interview on July 24, 2011 with Pastor David Woods of Word for the World
Church in Portland, OR and Host of "Pray America Live" Broadcast on KNLB 97.9 FM (can be heard in Las Vegas, NV from 10 pm - 12M) & Garry Hart of Hartland Mansion in Las Vegas, NV.


Shelea Griffith, wife of Elder Hudson Griffith, as she reads the scriptures and makes the announcements on

"Unite for Change"

Radio Program.

---

In our photo above Dr Ron Thomas and Elder Hudson Griffith board members of GABA joined Pastor Henry Black the President in representing the organization at the 43rd Gospel Workshop of America's Board Meeting here in Las Vegas in the month of March 2010. They are all members of the advisory council of MISOC.

Center Pastor Mikel McKinley of Solid Rock Chats with Elder Hudson while Bro Ernest a member of the church looks on.

Pastor Kelcey & Carmen West of Nehemiah Ministries as they participated in the

"Unite for Change"

Radio Program,

---

Gary & Pat Richards (The Father's House) Interviewing with Eld. Hudson W. Griffith




@KKVV Christian Radio Station on




January 30, 2011 during our




"UNITE FOR CHANGE"

Radio Program


Pastor Paul Kelker of Fresh Wind Ministries Supports Our


"UNITE FOR CHANGE"


Radio Program On June 26, 2011.


---

Elder Lynette Simmons of




Fresh Wind Ministries Shares Inspiring Words on Her New Book Entitled,




"Lord, Please Heal My Broken Heart"




---

UPCOMING EVENTS
 

LISTEN TO:

'UNITE FOR CHANGE' RADIO BROADCAST WITH

ELDER HUDSON W. GRIFFITH

 

EVERY SUNDAY

@ 4:02 PM

on  KKVV 1060 AM RADIO or GO TO:

(click on LISTEN LIVE Button)

GUESTS SPEAKERS ON


"UNITE FOR CHANGE"

Our Radio Broadcast UNITE FOR CHANGE began in the month of January 2010. Sis. Shelea Griffith makes the announcements while Elder Hudson speaks the messages in keeping with the theme. Other persons have been invited as guest speakers.
Pastor Mike Hatch of The Prayer Center spoke on the Early Morning Unity Prayer meetings that go from Church to Church, while Pastor Dr Ron & First lady Jennifer Thomas of R.A.M. who celebrated their 20th Wedding anniversary on February 13th came on Valentines day to speak on their experiences in Marriage.
Pastor Mike McKinley Of Solid Rock Christian Center gave a report of the opening of his Church on Las Vegas Blvd.,while Pastor Henry Black president of the Gospel Announcers & Broadcasters Association ( GABA) spoke on the work of the Association. Both Pastor Black and Dr Ron Thomas are members of the advisory Council of Pastors for MISOC. Dr.Leon Williams another Council member has also participated.

Dr. Leon Williams on the right chats with Pastor Tony Howard of Destined for Glory another member of the Advisory Council of Pastors.

Shelea Griffith & Rebeca Ferriera


Shelea Griffith

is the President of the Henderson Chapter of the Ministers' Wives and Ministers' Widows Association of Nevada; and

Rebeca Ferriera

is The Founder / Executive Director of Safe Faith United, Inc. These strong women of God are working together to bring awareness of the support and vital role of a Ministers' Wife and encourage all churches and communities to play a more active role in the safety of women who have hidden abusive partners before tragedy takes place.

For more information to join or support either ministry, you may contact Shelea Griffith @ (702) 454-5717 or Rebeca Ferreira @ (702) 685-1500

. God bless you and we look forward to hearing from you.

---

BOSS The Movement - Staff@KKVV


---

As We Gather at KKVV Christian Radio Station to Get the Word Out About
BOSS The Movement.






---

Rev. Jason Mitchem, who now resides in Atlanta, Georgia was a guest on 'UNITE FOR CHANGE' to give support and words of encouragement. He was also the guest speaker at our 32nd Men In Search of Change Prayer Breakfast on April 24, 2010. It was held at Calvary Baptist Church of Pastor Samuel Carroll where he spoke on "Obedience vs Gratification".


---

Rev. Jason Mitchem is the author of the book, "Revivify" about fallen leaders.

An Interview with Pastor Paul & Lady Yolonda Kelker of Fresh Wind Ministries as Daughter Grace Kelker Stands By With Excitement!
Bishop Andre Eagles, Prophet James Spencer, Prophet Mario Jones and other members of Remnant Resurrection Life Center
Join Elder Hudson & Shelea Griffith at KKVV Christian Radio Station.