August 1, 2016 "The Value of the Church"- Hebrew 10:24, 25, Sr. Chaplain Hudson W. Griffith

HWG OUTREACH CENTER FOR CHANGE

INTERNATIONAL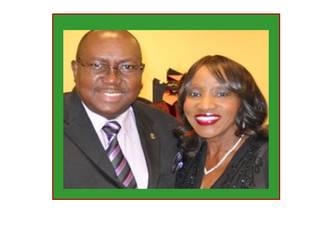 ELDER HUDSON W. GRIFFITH
CEO/FOUNDER
SHELEA A. GRIFFITH
EXECUTIVE DIRECTOR
/
COORDINATOR
P.O. BOX 90553
HENDERSON, NV 89009
EMAIL: hwgministries@gmail.com
HWG OUTREACH CENTER FOR CHANGE INT'L
OUR ONLY GOAL IN LIFE IS TO PLEASE GOD, BRING UNITY TO THE BODY OF CHRIST, BLESS AND PROTECT THE PEOPLE OF GOD, SAVE THE LOST AT ALL COST, BUILD RELATIONSHIPS IN ORDER TO PROMOTE REVIVAL, LOVE ALL BRETHREN AS CHRIST LOVED THE CHURCH NO MATTER WHAT RACE, NATIONALITY OR RELIGION. WE ARE ALL PRECIOUS CHILDREN OF THE MOST HIGH GOD AND IN OUR HEAVENLY FATHER GOD'S SITE.
OUR MISSION IS TO GIVE THE BASIC NEED OF EVERY DAY LIFE AS IN FOOD, CLOTHES, SHELTER AND TRANSPORTATION. TO THOSE IN NEED. TO TEACH THEM TO BE ABE TO BE ACCEPTED BACK IN THE COMMUNITY, THE WORK PLACE, OF THE BUSINESS WORLD, SCHOOLS AND OF THE LIKE
.
GOD LOVES US AND IT IS HIS WILL THAT NONE OF US PERISH; BUT COME INTO THE KNOWLEDGE OF HIS WORD AS WE LIVE IT ACCORDING TO THE WORD OF GOD.
TO GOD BE THE GLORY FOR ALL THAT HE HAS DONE AND WILL DO IF WE JUST TRUST HIM AND LIVE IN THE BEAUTY OF HOLINESS.
"WE ALL SHALL HAVE 'HAPPINESS WITH GODLINESS" - (HWG)
---
GOD HAS RECENTLY ENDOWED US WITH A MANDATE TO SERVE THE COMMUNITY, GO OUTSIDE OF THE BOX [BOOTS ON THE GROUND], AND REACH OUT TO THE HOMELESS, HELPLESS, EX-OFFENDERS, CHURCH-HURT, ABUSED WOMEN AND CHILDREN, THOSE IN RECOVERY HOMES AND OTHERS IN NEED OF SALVATION.



WELCOME TO OUR FUTURE MINISTRY (to include 7 ministries):
HWG OUTREACH CENTER FOR CHANGE INTERNATIONAL


TOGETHER WITH THE (MISOC) MEN IN SEARCH OF CHANGE PROJECT